The Prime Minister, abbreviated to PM, is the head of the government of Brunant. The office is the most important in the government. The current holder of the office is Adrian Vandreck, appointed on an interim basis since 7 September 2018.
The office is established by the constitution, having been introduced in 1902, following thirty years of increased democratization in the country. The law states that the monarch must appoint as Prime Minister the person most likely to command the confidence of Congress, usually the leader of the largest party or coalition formed after a general election. The office has always been constitutionally defined, unlike that of the United Kingdom, thus their powers and duties are clearly defined.
The requirement for the Prime Minister stipulated that he or she must be a member of the House of Representatives and be a Brunanter citizen, be it by birth or naturalization. Appointment is done by the monarch on the considerations of Congress. Prior to the 1940s, the monarch would often use their prerogative to appoint or dismiss the Prime Minister, though this has not been directly used since then.
The Prime Minister's salary is 107,000 euros per year, making him/her the highest-paid politician in Brunant.
List of Prime Ministers of Brunant
Edit
The longest-serving Prime Minister in the pre-war period was John Watson over three terms (1938 days), also holding the record for the shortest term in office, 14 days in late 1908. The longest-serving one in the postwar period was Henry Warson (4380 days over 3 terms). The longest consecutive periods in office were Johan Anderson (pre-war, 1279 days) and Henry Warson (2914 days).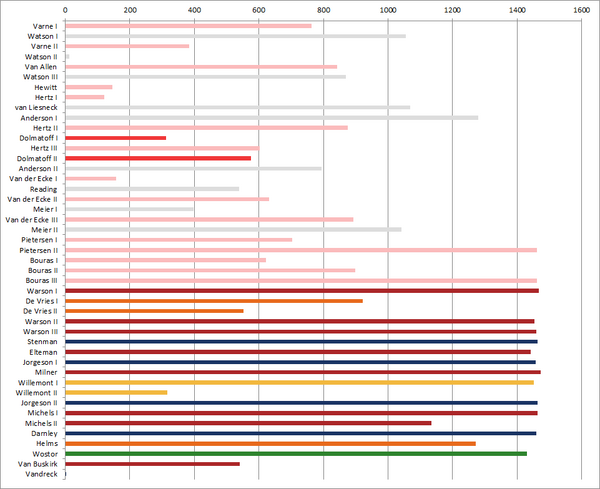 Community content is available under
CC-BY-SA
unless otherwise noted.