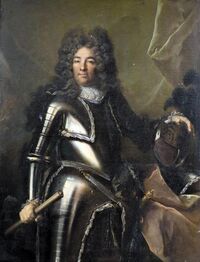 Prince Karl (Karl Edward Johan, 5 April 1669 - 30 July 1715) was a Brunanter prince and consort of Hélène de Cettatie, Queen of Cettatie from 1712 to 1751. Karl was a militaryman for much of his life, as a Lieutenant and Captain, and in 1698, he was made the first permanent commander of the Royal Grenadiers.
Biography
Edit
Karl was born in 1669, the second son and fourth child of Karl Van Draak and his wife Isabella of Parma. His father became King of Brunant in 1663, making Karl a Prince of Brunant by birth.
Despite the precarious health of his father, and the fact that his older brother Martin had no surviving male sons by 1700, he refused to marry and threatened the Van Draak hold on the throne. His brother eventually had one surviving son, Pieter, in 1701, and in 1706, Karl was betrothed to Hélène de Vintimille, eventually marrying in 1709. She was the only child and heir of King Louis I of Cettatie.
They would have two children:
Hélène became the queen regnant of Cettatie in 1712, with Karl becoming prince consort. Both his sons later also became Kings of Cettatie.
Karl was never entirely faithful to his wife, having a daughter, Caroline, in 1711. He was a heavy drinker and gambler, and died at the age of 45. His death was blamed to disease due to drinking, but there are accounts which surmise he may have been poisoned.
Community content is available under
CC-BY-SA
unless otherwise noted.