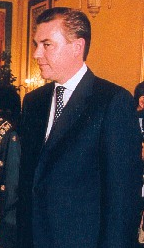 Wilhelm David van Draak (born 4 August 1959) is a Brunanter prince. He is the youngest child of King Marten II and Queen Aleksandra. Wilhelm is a brother of former King King Anthony and an uncle of Queen Helene.
Biography
Edit
Early life
Edit
Prince Wilhelm was born in Donderstad to King Marten II and Aleksandra Ilava on 4 August 1959. His godparents are his maternal grandparents, Lovian carpenter Zledin Ilava and his wife Anica Ský, his aunt Princess Angela and the King of Cettatie, Jean-Louis of Cettatie.
He was an excellent student at school (Ambrosian College) and wanted to become a doctor. He studied at Johns Hopkins University in the United States and eventually became a doctor.
Marriage and children
Edit
On 19 September 1990, he married Leonore Kristen Birkeland (born 25 June 1968 in Wikiborg), an Insel television reporter, in a religious ceremony in Wikiborg, Inselöarna. Initially, there were some issues between Wilhelm and his mother over his choice of bride, but they were never very big. Leonore is a daughter of Norwegian-born doctor Anders Birkeland and his Insel wife Katarina Tegling.
Prince Wilhelm and Princess Leonore have three kids together:
They currently live at Huis ten Bergen near Donderstad with their youngest child, Princess Brigitte.