Princess Amalia of Brunant (Maria Amalia Van Draak), born 15 September 1978, is a Brunanter princess and is fifth in line to the throne.
Biography
Edit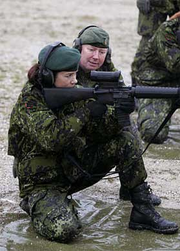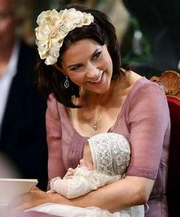 Early life and ancestry
Edit
Princess Amalia was born in Lovia to Princess Marie and William Van Draak; she is the couple's only child. Her mother was the daughter of King Marten II and her father Lovian dentist who was the grandson of King Pieter II. Thus she has both Brunanter and Lovian citizenship. She lived there from 1978-1995 in Lovia where she completed her grade school. She then came to Brunant in 1995 with her parents.
She studied at the Royal University of Koningstad from 1996-1999 and became a doctor. In 2000, she joined the Royal Guard. First she served as a medical officer, but in 2002, she joined the 4th Mechanized Battalion as a armored vehicle commander, which was very rare for such an important royal. Princess Amalia was sent with a small volunteer force to Afghanistan in 2003, but she worked in assisting hospitals and briefly training Afghan troops; the princess never saw active combat. There, she met her husband, Prince Berthold of Baden in late 2003. He was a military strategist with the guard who had been sent to coordinate activities with German troops.
Amalia retired from the Royal Guard in 2011 as a Captain.
Marriage and family
Edit
The couple began seeing each other more frequently in 2004, and they moved together in Koningstad. The couple announced their engagement in November 2005 and they married on 24 May 2006. The couple have two children:
In the fall of 2009 the family moved to Lovia, where they resided until October 2011. Since then, they spend their time between Noble City and Koningstad.
Community content is available under
CC-BY-SA
unless otherwise noted.