Princess Amalia (Amalia Cristina Anna Elisabeth Van Damme; 3 April 1591 - 17 May 1651) was a Brunanter princess, the daughter of King Willem I and Queen Maria Cristina. By her marriage to Alberto I of Juliana, she was Queen of Juliana from 1607 until 1626. Upon her husband's death, she was known as The Queen Mother.
Biography
Edit
Early life
Edit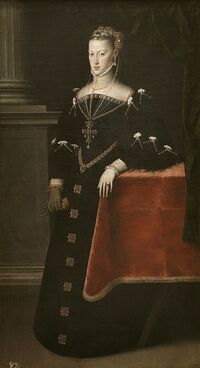 Princess Amalia was King Willem's fifth and youngest child; her two eldest siblings already died before her birth. Amalia's mother was Maria Cristina de Figueroa, a Spanish-born noblewoman and her father's third wife. In 1598, at the age of eight, Amalia's older sister Mariana died.
Amalia was married to Alberto of Juliana (1578-1626) by proxy in 1604, consummating the marriage in 1605. She was his second wife. The pair had thirteen children:
Carlo (1606-1662)
Giovanna (1607-1621)
Ferdinando (1609-1665)
Antonio (1610-1640)
Isabella (1611-1663)
Maria Anna (1613-1637)
Maria Carolina (1614-1660)
Giovanni Carlo (1614-1672)
Ercole (1616-1617)
Livia Maria (1617-1699)
Ercole (1619-1644)
Danilo (1621-1687)
Sibila (1623-1704)
Alberto became King of Juliana upon the death of his father, Giovanni II. He died in 1626 and was succeeded by his son Carlo.
Community content is available under
CC-BY-SA
unless otherwise noted.