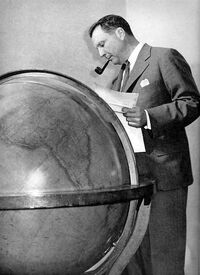 Roger Anthony Gilmour (2 January 1876 - 11 January 1954) was a Brunanter banker, businessman and art collector.
Biography
Edit
Roger A. Gilmour was born in Koningstad to Scottish-born banker Frederick Gilmour and Libertan-born Melanie Neyt. His father was a son of Allan Gilmour, owner of a large shipping company based in Renfrew, Scotland. Frederick's brother John was created a baronet in 1897. His mother was a daughter of Antoon Neyt and a member of the Libertan branch of the wealthy Neyt family.
Business career
Edit
Gilmour's father was involved in various businesses, chiefly Gilmour Holland financial group. After a brief stint in the Royal Guard (from 1895-99), Gilmour became involved in his father's banking firm and was a partner on his own. In 1906, he became a major stockholder in the North Brunant Railway, later the Atlantic and Mediterranean Company. When the elder Gilmour died in 1911, Roger took over the business.
During the First World War, he made a fortune financing Brunant's participation in the war and made millions of thalers after his loans were paid back in the 1920s.
Political career
Edit
In 1920, Gilmour was elected senator for Cape Cross Parish (Liberal Party), where he would serve until 1923, when Joseph Hertz's liberal government fell. In 1923-24, Maarten Dolmatoff's communist party was in power, but in new 1924 elections, Hertz returned to power and Gilmour was re-elected. Hertz's government again fell in 1925, but Gilmour kept his seat through the Dolmatoff and Anderson governments (until 1929).
In 1931, Gilmour was elected mayor of Dortmund, where he served two terms until 1939. After this, he retired from politics.
Art collection
Edit
Gilmour was an avid art collector and was the owner of many expensive works from Blomefont van Stein, Monet, Degas and others.
Gilmour also owned a few luxury vehicles (including a Hispano-Suiza which served as the president's car) which were later donated to the National Automobile Museum, and a 1933 Rolls-Royce.
Personal life
Edit
Gilmour was married to wealthy American heiress Barbara Waldorf in 1903. He and Barbara had two sons, Anthony and Philip. Barbara died in 1979.
His son Anthony married Traspesian Manuela Arcais y de San Martin, 12th Duchess of San Martin. His son Philip married Libertan-born Adlibitan Pulcheria Onofrei, daughter of Nicolae Onofrei, the Adlibitan ambassador in Libertas.
Community content is available under
CC-BY-SA
unless otherwise noted.