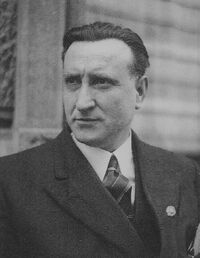 Robert Hardy (24 May 1906 - 29 July 2003) was a Brunanter journalist, politician, historian and activist. He was chief editor of Cape Times prior to the German invasion in 1941, but was arrested for his anti-national socialist beliefs. From the 1950s on, Hardy served as a member of the Cape Cross town council and the House of Representatives for the Liberal Party. He became known as an advocate for political tolerance and an historical contextualization of Brunanter collaboration with the Nazis. After his political career, Hardy wrote several books, was a much invited guest speaker and dedicated most of his life to political activism.
Community content is available under
CC-BY-SA
unless otherwise noted.