Rosetown Film Festival (RFF) is a publicly attended film festival held each March in Rosetown, Roseland, Brunant. The festival begins on September 8, lasting for eleven days.
The 48th Rosetown Film Festival was held at the Habermas Theater between September 8 and September 18, 2012, though The Arts Center Rosetown will be hosting the event from 2013 on.
The RFF was founded in 1964, by John Barker (1906-1982), a prominent director and actor of early Brunanter cinema. Barker was also the Festival's first president, from its foundation until 1970.
The last few years, total attendance at RFF has exceeded 10,000, with 12,300 public and industry admissions in 2013. Beginning in 2014 a select few foreign films, mostly from wikinations will be shown.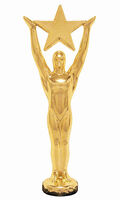 The Barker Award, named after John Barker, is an award given out, similar to the Oscars. Barkers are presented in the following main categories: Best Film, Best Director, Best Screenplay, Best Actor and Best Actress (since 1964) Best Supporting Performer (since 1983) and Best TV Show (since 2001). In various cases an Honorary Award is given.
List of Best Director Winners
[
edit
|
edit source
]
List of Best Screenplay Winners
[
edit
|
edit source
]
1969: Harry Winslow (The Lovebird)
1972: Cristove Vianna (Hipnosis)
1975: Ciaran and Eoin Hoolahan (The Armchair Hunters)
1976: Willem Sandberg (Red Hands)
1977: Paul-Jan Seelaar (Into Maarten's Head)
1981: Ciaran and Eoin Hoolahan (This Must be War)
1982: Christopher Scott (The Germans are Back)
1983: Bastiaan Barends, Diederick Kluijskens (The Wolf)
1991: Nathalie Jonker (Aquarelle)
1993: Frits de Haas (Hans and Diederik)
1995: John Fadaaq (The Wedding)
1997: Henry Parrish, Joseph Parrish (The Network)
1999: Horatio Kudbryn (Boisterous Nights)
2001: Philip Spring (Vanished)
2002: Christopher Bowers, Pieter Kalb (Life and Times of Hans Ziemerink)
2005: Edith van der Looy, Peter Krauss (When the Clock Strikes Ten)
2006: Alexander Forrest (Crocodile)
2007: Adam Martin, Christian Gordon (The Crack)
2008: Wim Nelissen (Do You Like Ye-ye?)
2009: Jeroen Besseling, Carolien Solsen (Peppermint)
2010: Adam Martin (Lethal Suits)
2013: Adam Martin (Sweet Revenge)
List of Best Actor Winners
[
edit
|
edit source
]
List of Best Actress Winners
[
edit
|
edit source
]
List of Best Supporting Performer Winners
[
edit
|
edit source
]
List of Best TV Show Winners
[
edit
|
edit source
]
List of Honorary Award Winners
[
edit
|
edit source
]
Community content is available under
CC-BY-SA
unless otherwise noted.