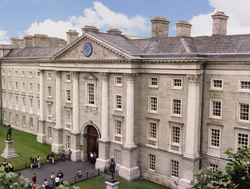 The Royal University of Koningstad (Dutch: Real Universiteit van Koningstad), also known as RUK, is a public research university and Brunant's largest, founded in 1795. It is located in both Grafstad and Charleston Beach in the capital Koningstad.
The Royal University of Koningstad was founded under the orders of James Carrington, who wanted to have a university in his capital. From 7 October 1795 to 3 June 1801, Crown Prince Ambroos (later king) was made the first Chancellor of the University and since 1803, he was declared honorary president for life.
While located in the political capital of Brunant, the University began to specialize in science and medicine and it has the most prestigious medical school in the country, the King Adrian Medical School.
Famous alumni
Edit

This page or section is a work in progress.
You are welcome to help in its construction by editing it as well.
If in doubt, please contact the most recent editor, Wabba The I.
The university has been the Alma mater of eight Presidents, including Andrew Kirkley and Marta Henneman, and five Prime Ministers. All the members of the successful band Calamity 74 studied here, too. Other famous alumni include: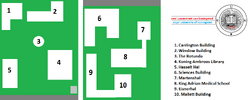 There are two campuses of the university in Koningstad, one in Grafstad and the other in Charleston Beach.
Grafstad campus
Edit
The Grafstad Campus is the oldest one of the University. This one is located on both sides of Carrington Avenue in Grafstad.
Charleston Beach campus
Edit
The Charleston Beach campus is located in the north (the sober) side of Charleston Beach. This campus opened in the 1920s.
Programs of study
Edit
King Adrian Medical School
Edit
Anatomy
Dental hygiene
Forensic medicine
General Medicine
Genetics
Nursing

Optometry and opthalmology
Orthodontics
Orthopedics
Pharmacology and toxicology
Physiology
Public health
Department of Science
Edit
Biology
Chemistry
Earth sciences
Environmental science
Health sciences

Psychology
Life Sciences
Microbiology
Neurobiology
Physics
Psychology
University research centres
Edit
RUK Center for Disease Research
RUK Center for Medical Development
RUK Center for Public Health
Community content is available under
CC-BY-SA
unless otherwise noted.