Television in Brunant was introduced in 1954 and completely in 1955.
Early history
Edit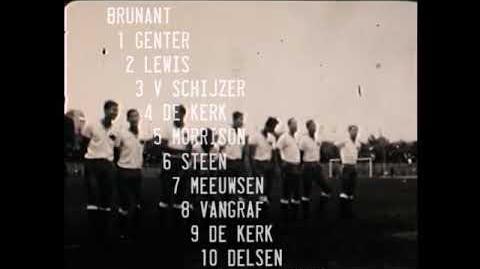 An experimental television service in Koningstad was established in May 1952. The first (internal) broadcast took place on 2 July that year, and by August, television sets were set up in several houses in the city which received test transmissions.
Regular test broadcasts occurred again in 1953, this time to other cities. Channel 1 was set up in January 1954 and regular broadcasts were transmitted; two hours daily in Koningstad and Grijzestad from Monday to Saturday, one hour in each language. In July television was extended to most of Brunant, with Drenthe and Sint-Willemstad Parish the last to receive television by January 1955.
Further programming was added yearly, till there was television coverage from 6:00 to 22:00 daily by the summer of 1960. The coverage of King Johan II's Golden Jubilee was the first major issue for the bilingual channel, with several written complaints of the unevenness of the coverage.
By 1961 Brunanter Television was part of the Eurovision network, and broadcast the Johan II Cup final in 1964, the first Brunanter television seen in Europe.
A second channel was introduced in April 1965; the first channel, renamed to Channel 1, broadcast in Dutch and Channel 2 in English.
Color television in the PAL format was tested in early 1968, with the first color program being the coronation of King Marten II on 2 February 1968. Further color programming was introduced in 1969, completed for both channels on 2 May 1971.
Post-1989
Edit
In 1989 the government passed laws allowing for the gradual introduction of private television. TV Plus was the first private station, initially on channel 5 and then on channel 8, broadcasting in Dutch. There were talks of divesting one or some of the existing channels, but the government found it hard to convince both viewers and personnel in the dismantling of the BBN. Instead, further emphasis on higher quality and competitiveness with the new stations was selected.
Channel 5 followed in 1995, Channel Six and StarTV in 1999, only being allowed after meeting regulations and assurances of quality programming and oversight.
Community content is available under
CC-BY-SA
unless otherwise noted.