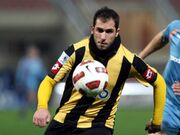 Hello, I am Happy65! I recently had a very important meeting with president Gert Henneman on the Brunant 2013 IWO Games topic and we decided that we could bring the IWO Games back to life instead of putting all of our work and effort to waste by completely cancelling the event and having a truly excellent nation in debt. Not everything has been decided yet but I will tell you what has currently been decided.
Staff
Venues
The main venue will be the amazing 40,000 capacity, Koningstadion which will also be home to the Opening Ceremony and Closing Ceremony of the IWO Games. Other venues likely to be used are University Park, the SD Bank-Center, Dortmund Park and the Willemstadion. Some other stadiums will also be used, and some will also have expansion.
Special Guests
Special Guests at the ceremonies and the country they will be representing.
LIST NOT YET FINISHED
Community content is available under
CC-BY-SA
unless otherwise noted.