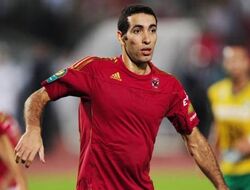 Yousef Marzouk (25 April 1984, Koningstad) is an Brunanter footballer of Egyptian origin, playing for FC Kings and the Brunant national football team.
Biography
Edit
Marzouk was born in the Inter District to Hamid and Fatima Marzouk; his father owned a grocery store and his mother assisted him in running it. Marzouk's father expected him to work in the store, but young Yousef was sneaking into stadiums to watch Arabian FC or St. Marks play.
Marzouk caught the eye of Arabian coach Patricio Rannauro in 1999 and he was allowed to join the youth squad on a short-term deal. In 2003 he was signed to a five-year deal, worth around €250,000 per year. In 2007 he was signed by the Helmond Raiders for €1,700,000, on a five-year contract. He is dating model Korea Charnik. Marzouk had a cameo role as himself in the BBN TV series Voetbal, Grappige Stijl.
In 2012, Arabian FC were looking to extend his contract but Marzouk wasn't interested. His contract ran out in December and amid interest from other top clubs arose. In the end, he chose to join FC Kings.
National team
Edit
Yousef Marzouk joined Brunant's U-20 squad in 2001. He was called up to the senior side in 2004 and has been in the starting 11 since 2006. Most recently he participated in the WFC 2012, scoring a goal against Guadeloupe.
Community content is available under
CC-BY-SA
unless otherwise noted.